A Funny Story, or: How Literary People React to 50 Shades of Grey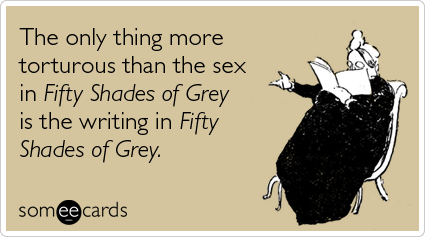 Last night I had dinner with my stepmom at our really good family friends' house, both of whom I also consider friends of mine. The husband works for Penguin in the educational department and the wife is a copy editor for Penthouse (she's the coolest person I know I think) and they're both very publishing, literature-y, read-a-lot people. Now that I'm not in school surrounded my English majors and creative writing minors I'm a little starved for people to book nerd out with so I love hanging out with them.
My stepmom (who is a chef/caterer, but reads a fair amount) was complaining that she hadn't been able to find a good book to read, and that she felt like she kept starting things and not being able to get through them. I've felt that way all summer too, and we commiserated that we miss having a book that we're excited to get back to reading when we go to bed (or in my case, when I get on the train for 1.5 hours every day).
And then she said it: "I'm about to just pick up 50 Shades of Grey and read it. Every time I say I haven't everyone's like, 'WHAT!? You haven't read it yet!?'"
And the three of us lit people sitting at the table with her were like: NOOOOOOOOOOOOOOOOOOOO.
My stepmom said to the wife, "You haven't read it?" and she said, "No! I have way better things to do with my time."
The husband said, "Isn't it Twilight fanfiction? Isn't that basically the lowest form of writing there can be?"
The wife said, "It's for sex starved housewives who don't know what a book is."
I said, "Don't stoop to that level Diane! You're better than that! You're smarter!"
So in the end I think we convinced her, haha.